Quality, Craftsmanship, Value
Tuning, Repairing, and Restoring Pianos since 1989
Quality, Craftsmanship, Value
Tuning, Repairing, and Restoring Pianos since 1989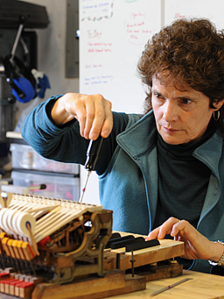 Preserving and maintaining old and new pianos since 1989
Beverly Wells founded Piano Craft in 1989. Since then, she has tuned, repaired, and restored thousands of North Bay Area pianos. More than simply tuning your piano, Beverly carefully assesses the entire instrument.
She has the technical skills and depth of experience to address almost any need your piano may have, and estimates are always free.
Your Piano Only Deserves the Best Service

Piano Craft's care and attention to the needs of your piano includes tuning and, when necessary, voicing and regulating the keyboard mechanics.
We ensure that the over 9,000 pieces, which comprise the typical piano, are in excellent working condition.
Providing Quality Piano Repair
Piano Craft has been caring for pianos in homes, schools, churches, and theatres throughout Sonoma and Northern Marin counties and previously in Canada.
Piano Craft's service area includes, but is not limited to Healdsburg, Windsor, Santa Rosa, Rohnert Park, Sebastopol, Cotati, Petaluma, and Novato.