Expert Restoration and Maintenance
Services for Your Piano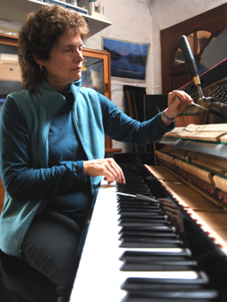 Like any stringed instrument, pianos need to be tuned. To produce the 88 notes provided on most pianos, there are approximately 225 strings, each one precisely tensioned to a specific pitch.
Whether a piano is played or stands idle, over time the tension varies and the piano goes out of tune. Tuning a piano at least once each year ensures a richer, truer, and most consistent sound.
Similar to a guitar or a violin, a piano's strings run across wooden bridges which connect them to the wooden soundboard. Constant changes in temperature and humidity throughout the four seasons cause the thin wooden soundboard to expand and contract, unavoidably altering the tension on each string. The result is a piano drifting out of tune over time.
The hammer mechanism, called the action, is critical not only to producing sound but to the feel of the keys, as well. Minute cracks in the bridges or soundboard can affect the tonal quality, and point to problems that can worsen over time.
Tuning a piano involves more than adjusting the tension of each string. As part of every tuning, Piano Craft performs a top-to-bottom inspection of the entire instrument, including all of its structural and mechanical parts.
This thorough assessment can identify wear and other issues that are relatively easy to repair when diagnosed early, but may require more costly repairs down the road.
Although a piano is not quite a living, breathing thing, treating it as though it is—with annual check-ups and tuning—will protect the investment, extend its longevity, and avoid costlier future restoration and repair.

Good piano maintenance begins with professional tuning at least once every year. But beyond tuning, thorough and periodic maintenance is critical to the proper functioning of a piano and will help extend its life and forestall costlier restoration.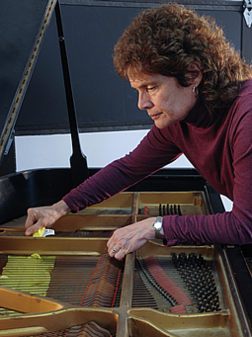 A thorough cleaning of the piano's interior is an important and frequently overlooked aspect of proper piano maintenance. The amount of dust, dirt, pet hair, toys, paper clips, photos, birthday cards, pens, pencils, jewelry, and other items that find their way inside a piano is a source of amazement to many piano owners.
Piano Craft strongly recommends that your piano be professionally disassembled and cleaned at least once every five years to ensure proper function and extend its longevity.
When a piano key is depressed, it sets in motion a complex mechanical process that results in a felt mallet, called a hammer, striking the strings to create a sound. The components that make up the keyboard/hammer mechanism are collectively called the piano's action.
Action usually needs to be serviced every 10 to 15 years depending on a variety of variables such as use, environment, initial construction quality, and proper preparations by the initial piano retailer.
Action maintenance can include:
Tightening the several hundred screws which hold various parts in place
Cleaning the whole or parts of the action
Polishing various metal parts like capstans and rail pins to reduce friction
Lubrication of various wooden parts
Minor replacement of overly worn parts
Regulation of the mechanics of the action (there are many points that may need to be adjusted to ensure that the action is responsive to the player's needs and that all 88 keys feel and respond the same way).
Occasionally, one or more functional pieces of a piano will fail—a key won't work, a pedal is stuck, a note or string creates a buzzing sound, etc. These problems are almost always minor and relatively easy to repair. There is no charge to have Piano Craft diagnose the problem and provide a detailed written estimate of the repair.
Restoration is more than simple maintenance, and typically entails the replacement of parts that are either severely worn or altogether inoperable.
Piano Craft's thorough inspection will uncover and diagnose any issues in need of restorative attention. There is never a charge to inspect and assess a piano's condition, and all work is outlined and explained before any charges are incurred.
Restoration may involve any or all of the three main components of a piano:
The keyboard and hammer mechanism, called the action;
The harp, which contains the soundboard, bridges, strings, tuning pins, pin block, and metal plate;
The case and visible exterior of the piano.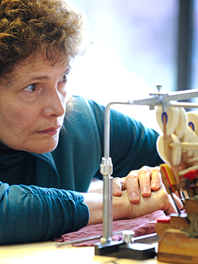 When you depress a key on a piano's keyboard you set in motion a complex mechanical process that results in a felt mallet, called a hammer, striking the strings to create a sound.
The components that make up the keyboard/hammer mechanism are collectively called the piano's action. Many of the materials used in constructing an action are wood but also include soft materials like felt, cotton, and leather, which can degrade over time.
Sometimes simple repairs and maintenance are enough to ameliorate the problems which inevitably arise with use and time; but eventually, typically after many years and decades, these parts may need to be replaced to keep the action functioning properly.
Restoring or rebuilding an action can include replacing all or some of the felt and leather materials, so the cost and extent of the work can vary greatly. As always with Piano Craft, our assessment of a piano's needs and the cost for any restoration or repairs are thoroughly explained and the written estimate is provided free of charge.
The piano's harp includes strings, tuning pins, pin blocks, bridges, a soundboard, and a cast-iron plate.
Similar to Action restoration, there are varying degrees of harp restoration. Many factors must be considered to determine the extent of the work to be performed, including the type of piano, how it is used, its underlying value, and the owner's intentions for the instrument.
The most comprehensive restoration entails removing all the strings, tuning pins, cast-iron plate, soundboard, bridges, and pin block, and replacing all of them with new materials (except the plate that is cleaned, re-sprayed, and reused).
Most restorations are less involved, and may only involve the replacement of bass (copper or iron wound) strings.
As with all restoration work, Piano Craft provides a written assessment free of charge that clearly lists the recommended work and required replacement parts prior to any charges being incurred.
Exterior Restoration/Refinishing:
Short of complete refinishing, which is described below, Piano Craft can fill small dings and scratches, touch up the finish, and improve the appearance of a piano at a fraction of the cost of a full case restoration.
As with all restoration work, Piano Craft will present all of the options available to the owner and the costs associated with each option.
While the form or configuration of a piano's case, particularly in grand pianos, may play an important role in the overall resonance of the instrument, its exterior appearance has little or no effect on the tonal quality of the piano. Refinishing the exterior of the piano will not affect the piano's sound any more than repainting a car affects how it drives.
Nevertheless, a piano is more than a musical instrument; it is a piece of furniture, an heirloom, and frequently a focal point of a home or workspace. Although refinishing the exterior of a piano is a very labor-intensive process, the result can be astonishing.
The piano is disassembled, the many individual pieces of the case are stripped of the old, yellowed varnish or lacquer, and the original beauty of the wood is revealed. The pieces are repaired when necessary and then sanded, stained, and sealed, then sprayed with several coats of lacquer.
Whether you are considering restoring a family heirloom or want to discover what the potential beauty and value of your piano may be, Piano Craft will provide a free assessment of your piano and provide a written estimate of the various maintenance, repair, and restoration options available.